Susan Jistel Spillios, CPA
Partner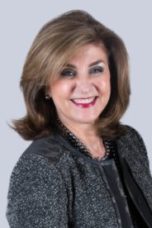 Contact: 713.589.3790
sspillios@axiapartners-us.com
Susan Jistel Spillios is a Partner at AXIA Partners with extensive experience in the professional services industry, where she specializes in business development and client relationship management in the areas of Financial Accounting and Reporting, Mergers and Acquisitions, Business Transformation and SOX, Internal Controls, Internal Audit and Regulatory Compliance. During her career, Susan has worked with clients in a broad spectrum of industries and possesses in depth knowledge of upstream, midstream, downstream energy and oilfield services businesses as well as the banking and financial services sector.
Susan maintains a high degree of entrepreneurialism consistently demonstrated in her ability to establish and develop long term relationships with her clients built upon solid business and industry perspectives, commitment to excellence and solutions-based performance.  Customer-focused and performance driven, she partners with clients navigating through organizational change to provide interim resources and project solutions.  Leveraging a Big Four/industry background and auditing, accounting, finance and compliance expertise, she is uniquely able to interface across functions and business units.
Prior to joining AXIA Partners, Susan served as a Partner and in a variety of national and local roles for a national professional services firm, SolomonEdwards, to support and manage the growth of the Banking & Financial Services Practice and the Houston office. She pioneered the professional project services concept, returning to Deloitte, where she started her career, to open the Houston office of Resources Connection, now RGP.  For the last twenty years, Susan's focus has been on the operational perspective of professional services firms that provide business consulting services.  She has held positions in recruiting, business development and project management.
Susan is a native Houstonian, an honors graduate of the University of Texas and a CPA licensed in the state of Texas.  She is a current, long-term member of the state level Texas Society of CPAs Board and a former Houston Society of CPAs (HSCPA) Board member.   Other leadership roles include the Women's Finance Exchange Board as well as numerous memberships in other business and community service organizations.